"Almost impossible" to recognize the Taliban, says the United Nations
The United Nations representative for Afghanistan has declared that as long as restrictions are imposed on women and girls in that country, it will be "almost impossible" for the international community to recognize or accept Taliban rule.
Afghanistan's de facto government is composed exclusively of men and is largely drawn from the Taliban's 'Pashtun and rural political base', UN Special Representative for Afghanistan, Roza Otunbayeva, told a briefing at the UN Security Council in New York on 21 June 2023. Greater accountability and transparency are vital requirements.
The Taliban government remains despotic and politically isolated. It has been reported that Taliban leaders wish to be recognized by the UN, but they reject the world organization's core values.
Otunbayeva, the Special Representative of the United Nations Assistance Mission in Afghanistan (UNAMA), has told the Security Council that one of the Taliban's main problems is the general tendency toward « centralization of power under an unaccountable central authority ». It is widely feared that a lack of inclusiveness and participatory governance is a cause of instability.
She is direct about the obstacles Taliban leaders have put in place through their decrees and restrictions, making it « almost impossible » for the international community to recognize their administration.
Despite these difficulties, effective lines of communication with the de facto authorities make it possible to identify opportunities for progress, according to the head of UNAMA.
Participants at the UN Security Council meeting condemned the gender-apartheid regime in Afghanistan as contrary to human rights values and demanded more sanctions against the Taliban.
As Otunbayeva highlighted a number of key points,  one Security Council delegate declared that women and girls, excluded from public life and education, face a « gender apartheid » in Afghanistan.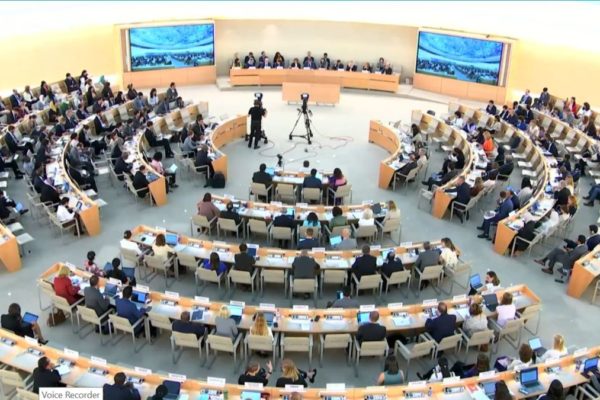 Many speakers called on the de facto authorities to stop violating human rights or risk being isolated and denounced Taliban policies. Speakers also urged the Security Council and the international community to force the Taliban government to put an end to its tyrannical and inhumane activities, on pain of remaining isolated from international affairs.
Taliban have a long history of war crimes
According to Naseer Ahmad Faiq, Afghanistan's chargé d'affaires to the United Nations, the world community and the people of his country are experiencing the same suffering.
Faiq shares his speech with Latitudes, and said, nearly 20 years after women regained their rights, Afghan women and girls are once again barred from obtaining a good education or working in non-governmental organizations and are completely excluded from the political process and the judicial system.
Ahmad Faiq stated that gender-based discrimination, apartheid, and persecution still affect women and girls in Afghanistan. The Taliban regularly violate the rights of women and girls using harsh, brutal, and inhumane methods.
The Afghan people expect the international community to adopt a unified and convincing stance in the face of deteriorating human rights. In addition to increased repression of the media and civil society, the Taliban use corporal punishment, which is frequently administered in public and is regarded under international law as torture and other forms of cruel treatment.
He pointed out that the Taliban have a long history of war crimes and other crimes against humanity, including the deliberate burning of civilian homes, extrajudicial executions, torture, and hostage-taking. These actions, aimed at spreading terror, constitute collective punishment, which is itself a war crime.
The 19 June meeting of the Human Rights Council on the human rights situation in Afghanistan once again confirmed many of these abuses. His delegation expects the international community to take new and firm measures to ensure that those responsible for flagrant human rights crimes are held to account.
« Gender apartheid » not acceptable 
Paulo Casaca, founder and executive director of the South Asia Democratic Forum in Brussels, in an interview with Latitudes, said that Europe should « consider the gender-apartheid regime imposed in Afghanistan » as a major attack on universal values, and should make solidarity with Afghan women a priority of its global equal rights policy.
According to him, since January 2022, the EU has re-established a physical presence in Afghanistan to coordinate humanitarian aid to the Afghan people. « As far as I know, the European Union does not formally recognize the Taliban. I don't think the EU will recognize the Taliban government, » he added. According to information provided by European institutions, relations with the Taliban have continued at the same level since that date.
Casaca pointed out that the Taliban have consistently refused to recognize the fundamental rights of the Afghan people, and Afghan women in particular, in total disregard for the existing international humanitarian framework and the repeated demands of the international community.
He referred to the Norwegian policy, insisting that inviting the Taliban to Europe without preconditions is tantamount to legitimizing their power and contempt for human rights. Other European countries and institutions should not choose this option.
According to official information from the European institutions, the EU's contacts with the Taliban are strictly limited to humanitarian objectives. The Taliban must be brought to justice for the crimes they have committed in Afghanistan, and no state of impunity should be granted to them.
He pointed out that Afghan women have repeatedly shown their disapproval of the gender apartheid regime in Afghanistan, often at the risk of their lives. All those who believe in human rights, and in particular in equal rights for women, have a duty to make solidarity with Afghan women their priority.
Nasir Ahmad Andisha, Afghan Ambassador and Permanent Representative to the United Nations in Geneva, which I followed online, said the Taliban government is openly challenging the very foundations of the international normative system that has developed over the last 75 years.  International efforts have not been forceful enough to put an end to its crimes. He called for the mandate of the Special Rapporteur on Afghanistan to be extended to include a mechanism for regular reporting, investigation, and data collection on human rights abuses and violations.
Shaharzad Akbar, Executive Director of the expert group Rawadari, pointed out that the Taliban have turned Afghanistan into a collective tomb for the aspirations, hopes, and potential of Afghan women and girls. In some circumstances, the international community has actively supported or complied with this collective burial, while in others it has merely observed this gigantic graveyard and made statements. Countries must avoid any contact that normalizes Taliban gender apartheid and discrimination or gives the appearance of de facto recognition.
There is no fundamental rights of women and girls in Afghanistan
According to Richard Bennett, Special Rapporteur on the situation of human rights in Afghanistan, it is the Council's duty to use all its influence to restore, defend and advance the rights and freedoms of women and girls in that country. Bennett said that the human rights situation for women and girls has only worsened, and there has been no progress for other members of the population who were marginalised, linked to the former Islamic Republic, or opposed to the beliefs of the Taliban.
He said that the international community must do everything in its power to tackle the serious denial of the fundamental rights of women and girls in Afghanistan and reverse the trend. Information has been received from more than 2,000 women who have repeatedly called for urgent action to enable women and girls to resume their education at all levels and to exercise their professions.
In particular, the Afghan women asked the Council to ensure that member states refrain from any interaction that would legitimize the Taliban's gender-apartheid policies and give the impression of de facto acceptance.
The Council should request a report on gender apartheid, an institutionalized system of discrimination, segregation, humiliation, and exclusion of women and girls, as suggested in the joint report. The inclusion of gender apartheid in the proposed convention on crimes against humanity should also be supported by the Council. A thorough investigation should be carried out to ensure that those responsible for gender-based violence against women and girls are held accountable, and to combat the widespread impunity for crimes against humanity perpetrated by the Taliban.
According to Nada Al-Nashif, UN Deputy High Commissioner for Human Rights, the Taliban's seizure of power in 2021 led to a significant and widespread backlash against the rights of women and girls. A series of decrees have erased women and girls from public life and denied them enjoyment of their fundamental rights.
Firouzeh Nahavandi, sociologist and professor at the Free University of Brussels, said to Latitudes, that the situation in Afghanistan remains fragile, and that women's rights and human rights are particularly at risk. She confirmed that the European Union interacts with the Taliban for humanitarian reasons.
The EU still insists on human rights and women's rights, while all the violence against the Afghan people is taking place under Taliban control. For that reason, the Taliban government is not recognized, because it does not respect the fundamental rights of half the population. It can promise everything, as it did to the United States of America, but that is not the reality.
Nahavandi also explained that the Taliban are an ideological group, and it is not easy for them to allow women and girls to study or work. The gender-apartheid regime should therefore not be recognised by anyone.
« I'm addressing young people »
Rangin Dadfar Spanta, Chair of the ISSA Advisory Board and former Foreign Minister of the Islamic Republic of Afghanistan said that over a period of 20 months, the country had fallen a hundred years behind the caravan of human civilization. With each passing day, Afghan girls and women are deprived of an education and prevented from exercising their professions, society is drained of its spirit of tolerance, and the political and administrative apparatuses are further subordinated to a primitive ideology and mentality that continues to spread. Afghanistan is thus becoming increasingly detached from the civilized world, and primitivism is being promoted to the status of socio-political universality in the country.
As he pointed out, abuse of women's rights and human rights and violence against people is on the increase and being resisted in this struggle. Gender apartheid must not be recognized, and the European Union and international organizations must take this problem seriously.
« I'm addressing young people, » said Dr. Spanta, « who must get involved, bring their skills and creative energy to this battle, and shake the divided politicians and the elderly out of their torpor. »
The struggle to build a just and democratic state cannot depend on the approval or consent of others. Moreover, it must not be limited to international social activism and diplomatic meetings. He said he was optimistic that the Afghan people would fight for all their rights and regain the brightness they once had in their lives. « This dark night is destined to come to an end. Even if it seems that daylight is lost beyond the horizon, have no doubt that a new dawn will break. »
The Taliban have largely politicized humanitarian aid through their proclamation
Hannah Neumann, a German member of the European Parliament, visited Afghanistan and wrote a long report on her visits to Kabul and I received that by email. In her article, she repeatedly stressed that the Taliban system must be described as a gender-based apartheid regime.
She also confirmed latitudes, that the rights of women and girls, as well as freedom of the press and civil liberties, are restricted. Today, the Taliban focus on using education to spread their extreme vision of the world. The Taliban's Afghanistan is a time bomb, and the international world cannot and must not turn a blind eye simply because there are no easy answers. This system can and must be described as sexist apartheid.
Moreover, it is hard to see how the Taliban intend to develop their nation in a context where the majority of boys are raised with little exposure to the world outside radical religious doctrines, where women are treated as second-class citizens and denied an education.
In her report, she pointed out that in an extremely gender-segregated society such as Afghanistan, women are frequently called upon to provide medical care for women, teach girls in classrooms, interview other women to determine humanitarian needs or distribute food baskets to female-headed families. Not surprisingly, the embargo has led to a depressing discussion among donors about whether they can still help Afghanistan. The Taliban have largely politicized humanitarian aid through their proclamation. Even the millions of Afghans at risk of starvation would be victims of their gender-apartheid doctrine.
The Taliban's declared aims are to eliminate women from all aspects of public life and establish a system of gender apartheid. Enabling women to express themselves, make themselves known, and receive support is essential if they are to continue to work under the Taliban and use their influence to combat gender inequality.
The Taliban were not officially recognized at the UN's international conference on Afghanistan in Doha, Qatar, and UN Secretary-General Antonio Guterres said the time was not right for direct interaction with the Afghan government.
"This is not about recognizing the Taliban as the de facto government of Afghanistan, » he said. « It's about the development of Afghanistan. In the face of unprecedented systemic assaults on the rights of women and girls, I will be very clear: we will never remain silent. When millions of women and girls are silenced and hidden, we will always speak out, » he declared.
« TALK TO ME, NOT ABOUT ME! »
The open letter which I received by email, from a group of women activists is a very strong and direct message to the world, accusing it of not paying attention to the situation of people, especially women and ethnic groups, in Afghanistan.
Here is the important part of their open letter and their demand to world leaders: « TALK TO ME, NOT ABOUT ME! » We are particularly concerned about the prospect of the meeting opening the door to future international recognition of the Taliban regime, as highlighted by recent comments to the media by UN Deputy Secretary-General Amina J. Mohammed: We hope that we can find those small steps that will put us back on the path to principled recognition [of the Taliban]. « We are appalled that the UN or any of its member states would even consider recognizing the Taliban, a terrorist organization whose deeply repressive dictatorship has actively worked to eliminate more than half of society's population. We are Afghan women, members of civil society and media organizations. »
In their letter, the women asked the United Nations to immediately abandon any plans – even  "small steps » – to recognize an unjust regime that regularly violates the human rights of Afghans of all ethnic origins and commits daily acts that constitute crimes against humanity. The Taliban have become the only government in the world to preserve a system of, having deprived women and girls of almost all their fundamental rights.
International troops withdrew from Afghanistan and the Taliban took power by force on 15 August 2021. The Afghan people have criticized Western countries, asking why they were inviting this Taliban terrorist group to Europe.
At the annual summit on conflict and peace diplomacy held in Norway in 2023, three officials working for the de facto Afghan authorities in Kabul were invited to the Oslo forum.
Acting Afghan Interior Minister Sirajuddin Haqqani, the leader of the Haqqani network who remains on the US and UN terrorist blacklists met with members of the European Union delegation to Afghanistan on 17 January 2023. Discussions focused on the EU's humanitarian assistance to the Afghan people and on promoting the safety of its aid workers in the country.